HEADTEACHERS from the region last night issued a stark warning about schools funding ahead of a conference to discuss a predicted £3bn shortfall in the education budget.
The National Association of Headteachers (NAHT) is organising the conference in Chester-le-Street, County Durham, on the eve of next month's Government's budget announcement.
According to figures from the NAHT, the North-East faces cuts in the region of £120 million between 2014/15 and 2019/20 due to rising costs.
It comes as the Schools North East regional network warns that decisions in schools are being increasingly driven by budgets instead of education needs.
The NAHT campaign to protect education budgets follows a report by the National Audit Office, produced in December, which found by 2019/20 there would a £3bn shortfall in funding – the equivalent of an eight per cent real-terms reductions in per-pupil funding – while by the end of this financial year schools will have had to make savings of £1.1bn, or 3.1 per cent of the total schools budget.
The union says schools in County Durham will have to make savings of £20m, while those in Darlington will have to cut almost £7m and Middlesbrough around £11m. Schools in Stockton face £8m of cuts and those in Sunderland £14m.
Dave Marshall, regional NAHT secretary, said: "What this means for the North-East is a shortfall in funding of £120m. I think at a time of uncertainty it's not the time to be cutting education for the future.
"Within a few years budgets will be unsustainable and this will ultimately lead to reductions in the quality of education available to our children."
The Department of Education is currently consulting on plans for a new funding formula, which it says will remove the "historic postcode lottery" of school funding.
But critics say while the change will result in an increase in funding for North-East schools, other pressures, including pay rises, the introduction of the national living wage, higher pension and national insurance contributions, and the apprenticeship levy, mean per pupil funding will fall.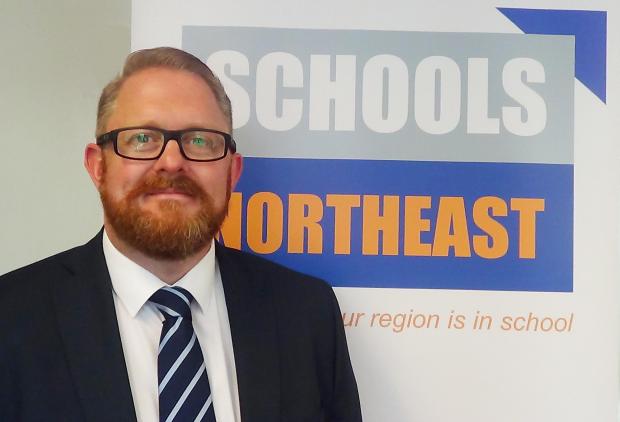 Mike Parker, pictured above, director of Schools North East, said: "Across mainstream schools the budget pressures are driving decisions which is not in the best interest of the education of children. Teachers are taking second subjects which they are not specialists in because school's can't afford the additional teachers.
"At every level schools are being squeezed on budgets and they are having to make tighter and tighter decisions.
"Every conversation we have with headteachers is about funding. It used to be the curriculum at the top or Ofsted or children's mental health. Now the budget is the first thing that comes back because schools don't feel they have the resources."
Pam Monaghan, headteacher at Neville's Cross Primary School, in Durham, said: "It's bleak. It isn't a good feeling looking at the budget I've got. The fact is we might have to go through future staff reductions.
"Our numbers are increasing but despite that we had to go through a staffing reduction last year.
She added: "We're getting more and more children with emotional needs or quite complex needs. In a class of 30 there's no way teachers can provide that level of support and care.
"Unfortunately it's going to be the support staff we're going to have to shed. We want to be able to provide that but we don't have the budget to match."
A Department for Education spokesperson described the union's figures as "fundamentally misleading".
She added: "School funding is at its highest level on record, at more than £40bn this year. Over the last six years we have seen the number of children being taught in schools that are rated good or outstanding rise by almost 1.8m.We are protecting per pupil funding so where pupil numbers rise, the amount of money schools receive will increase.
"The government has protected the core schools budget in real terms since 2010, but the system for distributing that funding across the country is unfair, opaque and outdated. It is based on patchy and inconsistent decisions that have built up over many years and on data that is over a decade old.
"We are going to end the historic postcode lottery in school funding. Under the proposed national schools funding formula, more than half of England's schools will receive a cash boost in 2018/19. This will help to create a system that funds schools according to the needs of their pupils rather than their postcode."
NAHT is holding a conference for headteachers at Durham County Cricket Club, in Chester-le-Street, on Tuesday, March 7.