THOUSANDS of teachers across the North-East could be lost unless a £120m funding cut for schools is addressed, a head has warned.
David Davies, headteacher at Sedgefield Community College - recently ranked in the Sunday Times' list of Top 50 UK State Secondary Schools - said schools face the prospect of being unable to heat their classrooms and having to cut subjects from their curriculum.
The stark warning follows an independent report by the National Audit Office which found schools across England need to make total savings of £3bn by 2020.
The National Union of Teachers (NUT) estimates the £119m real terms cuts that North-East schools face by the end of the decade is the equivalent of cutting more than 3,200 teachers.
But the Department of Education branded the findings "nonsense" and accused unions of "scaremongering".
Mr Davies said it was a "complete and utter myth" that the Government was protecting schools' budgets.
"In recent years, we have seen pension contributions included as well as moderate pay rises and there has been no increase in the budget," he said.
"There is a disparity between the funding London receives and the North-East which has never been addressed."
The reduction in funding is believed to be due to a variety of factors including changes to the new funding formula, government cuts and the effect of inflation on school costs.
Figures collated by Schools NorthEast show the region's authorities would have almost £42m more to spend on education if they were funded at the national average, and more than £320m if funded at the London rate.
"The National Audit Office say the North-East faces an eight per cent real terms reduction in its education funding," said Mr Davies.
"This will mean schools having to reduce its services which could include only heating classrooms for part of the day, reduced investment in school buildings, IT facilities being stretched beyond their usable life and expensive subjects being cut such as music and design technology.
"It is our responsibility to provide the best possible education, but ultimately parents need to be aware that the future of their son or daughter is at risk with these cuts.
"They need to lobby their MP and raise their concerns because in real terms, these are significant cuts."
Schools NorthEast, the representative body for all 1,250 schools in the region, is calling on Chancellor Phillip Hammond to use his first budget to tackle the funding "crisis".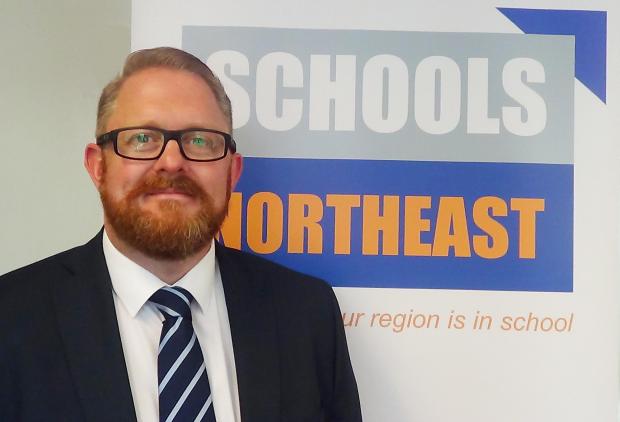 Mike Parker, director of School's NorthEast, pictured above, said he was "deeply concerned" and added that the government must put more funding into schools.
"The Government has to recognise that if it wants a world class education system it has to fund schools appropriately," he added.
"The education budget as a whole must increase and the share for the North East has to rebalance the legacy of underfunding in this region.
"The whole experience of school is going to be cut back and it will hit deprived children the hardest."
A spokesperson for the Department of Education said: "We have made more school places available in the best schools and the free schools programme is a vital part of that, creating places where they are needed.
"The vast majority of inspected free schools are rated good or outstanding by Ofsted, giving parents in areas where existing schools are not good enough the choice of a quality school place.
"The Government is making a huge investment in the school estate of £23bn up to 2021, to create a further 600,000 new school places, deliver 500 new free schools, and rebuild and refurbish buildings at over 500 schools.
"But we want to go further - that's why we have set out plans to create more good school places, in more parts of the country, by scrapping the ban on new grammar schools, as well as harnessing the expertise and resources of our universities, and our independent and faith schools."
But Mike McDonald, NUT regional secretary, warned the future of rural schools are most at risk - with several having already closed in the last year.
He said: "Every single school in the North-East is facing devastating cuts and the only significant way of managing this is cutting staff.
"It will lead to increased class sizes and teachers will have to start teaching other subjects that they do not specialise in."
Sedgefield MP Phil Wilson called on the Government to reverse the cuts and "start investing in our children".
"The cuts proposed for local schools can only have a major effect on the education of children, not only in my constituency, but around the region.
"Education is vitally important in any child's ability to develop their life chances - we owe it to them to invest in their future prospects.
"The secondary schools in my constituency do a superb job - in fact Sedgefield Community College is one of the top fifty state schools in the country. I do not want to see the progress schools are making interrupted."