ARMED police are continuing to surround the house of a man who threw petrol bombs at officers.
The siege at Burnopfield, near Stanley, in County Durham, is ongoing this morning, more than 20 hours after it started.
Inside the house, a 47-year-old man, said to be suffering from mental health issues, has refused to leave and is threatening police.
A spokesperson from Durham Police, said: "The situation in Lintz Terrace, Burnopfield remains very much the same as it was yesterday afternoon and evening.
"A police cordon is still in place in the area, as you may have seen on the local news police did come under attack from a number of petrol bombs yesterday and therefore a cordon is in place to protect the officers and members of the public.
"We are continuing in our efforts to negotiate with the man inside the house and to resolve this matter peacefully, as soon as we can.
"To all local residents, thank you again for your patience."
The man, who is alone, telephoned the police at around 1pm on Wednesday and asked them to come to the house.
When officers arrived, he made threats and threw several petrol bombs at them which exploded in the street.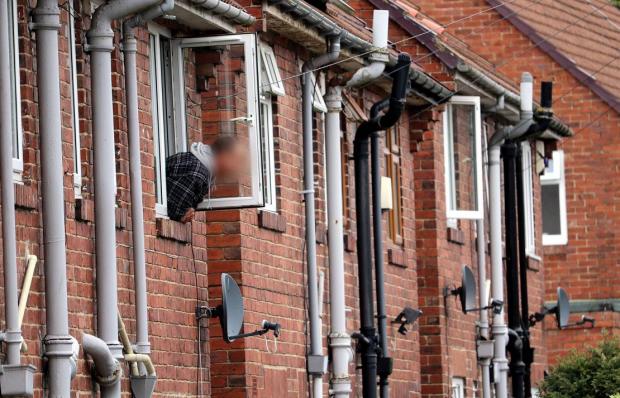 SIEGE: The man leaning from an upstairs window of the house. Picture: NORTH NEWS
Armed police were then called in and threw up a cordon around the semi-detached house.
Several neighbouring properties were evacuated and residents were asked to avoid the area.
Other emergency services are standing-by, including the fire brigade, ambulance and gas engineers.
At around 5.30pm on Wednesday evening police negotiators shouted at a window to try and encourage the man to come out.
He responded by throwing two moe petrol bombs at them. One failed to ignite while the other exploded into a ball of flames at the feet of officers - who used their riot shields to protect themselves.
It is understood one of the officers was bitten by a police dog in the aftermath of the petrol bomb attack.
Inspector Vicky McCauley said: "It is a large scale operation. Firearms officers did not come out straightaway.
"It was in response to the officers who responded to a male having mental health issues.
"There was an issue where we came round to the house in the first place. We were concerned about his safety, the safety of others and the safety of our officers.
"Obviously this can be a bit scary for members of the public but we want to ensure no-one is injured."
The drama drew a huge crowd of onlookers.
One said: "This is a small village and nothing like this ever happens here."