The Grenfell Tower disaster was a "preventable accident" following "years of neglect" by successive governments, London Mayor Sadiq Khan said as the council chief leading the response to the crisis defended the relief effort.
Mr Khan said the local community was "frustrated" and "angry" in the wake of the blaze, which left at least 58 people feared dead, after he attended a church service near the tower block in west London.
His remarks came as Nick Paget-Brown, the Tory leader of Kensington and Chelsea council, insisted officials were on the ground "very soon" after the fire broke out following criticism from Prime Minister Theresa May, who said the support given to residents was "not good enough".
He also sidestepped questions over whether he felt guilty about the tragedy, telling BBC Radio 4's The World At One: "I feel terrible about the whole position we find ourselves in. All I'm keen to say is there is an effective, co-ordinated relief effort on the ground and I'm sorry if people haven't seen that."
Speaking outside St Clement's Church, Mr Khan said: "There is a feeling from the community that they have been treated badly because some of them are poor.
"The tragedy we're seeing is because of the consequences of mistakes and neglect from politicians, from the council and from the Government."
Meanwhile, a company involved in the renovation of the tower was forced to deny cladding on the building was banned in the UK after comments made by Chancellor Phillip Hammond.
It was reported that the material used in the cladding covering Grenfell was Reynobond PE – a cheaper, more flammable version of two available options.
Appearing on the BBC's Andrew Marr Show, Mr Hammond said: "My understanding is the cladding in question, this flammable cladding which is banned in Europe and the US, is also banned here."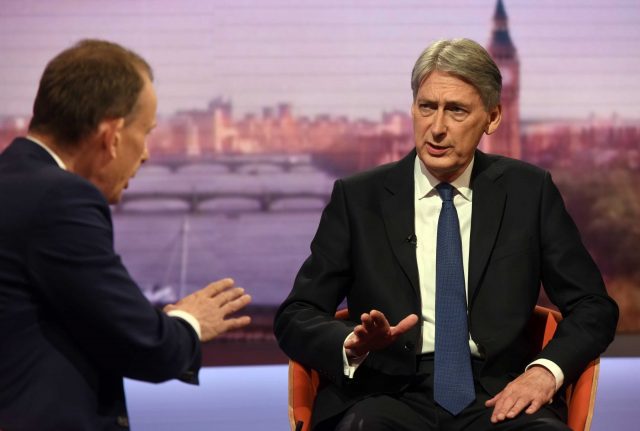 John Cowley, managing director of CEP Architectural Facades, which produced rainscreen panels and windows for Grenfell Tower's cladding sub-contractor Harley Facades Ltd, said: "Reynobond PE is not banned in the UK.
"Current building regulations allow its use in both low-rise and high-rise structures.
"The key question now is whether the overall design of the building's complete exterior was properly tested and subsequently signed off by the relevant authorities including the fire officer, building compliance officer and architect before commencement of the project."
Father's Day cards were among the tributes left close to the charred remains of the tower on Sunday, as firefighters leaving the scene were greeted by cheers and applause from the local community.
Senior civil servants have been called in to deal with the aftermath of the fire amid criticism of the way the crisis has been handled by Kensington and Chelsea council.
Volunteer Nisha Parti claimed survivors are being given just £10 a day to live on by the council and are unable to access the huge donations pledged by members of the public.
She told ITV's Peston On Sunday: "There is money pouring in from all these amazing volunteers, we can't get access to the money and we cannot get it to the families."