NEWCASTLE UNITED will mark their return to the Premier League with a home game against last season's runners-up, Tottenham Hotspur.
Having claimed the Championship title last season, the Magpies will be back in the top-flight next term, and their season will begin on the weekend of August 12 with a repeat of the fixture that marked their final outing in the Premier League prior to relegation.
Reaction to Newcastle United's fixture list on return to Premier League https://t.co/gHOjCyk29w

— Scott Wilson (@Scottwilsonecho) June 14, 2017
Newcastle thrashed Spurs 5-1 on that occasion, and Rafael Benitez will be hoping for a similarly positive result as his side look to hit the ground running in two months' time.
REPEAT SHOWING?: Newcastle beat Spurs 5-1 in the final game of the 2015-16 season
The season opener against Spurs will be followed by a trip to newly-promoted Huddersfield Town seven days later, before Newcastle round off August with a home meeting with West Ham.
The West Ham game kicks off an early run of four 'winnable' fixtures, with United also set to face Swansea, Stoke and Brighton before the end of September. That sequence of games could be crucial in setting the tone for the remainder of the campaign.
December promises to be an action-packed month, with Newcastle set to play seven matches in the final month of the year.
They face Chelsea, Leicester, Everton and Arsenal in a difficult run at the start of the month, and are due to make their first visit to West Ham's London Stadium on December 23.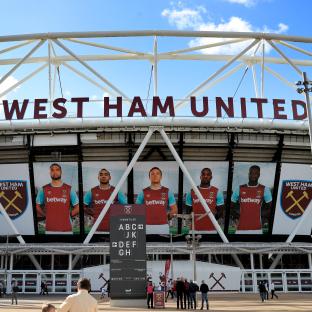 FESTIVE TREAT: Newcastle are due to visit West Ham's London Stadium two days before Christmas
Boxing Day brings what is sure to be an eagerly-awaited home game with Manchester City, while Newcastle host Brighton between Christmas and New Year. They are away at Stoke City on New Year's Day.
Manchester United's visit to St James' Park is scheduled for February 10, and Newcastle are set to visit Wembley on March 17 to take on Tottenham while their home at White Hart Lane is being redeveloped.
Newcastle's run-in looks relatively testing, with a home game against Arsenal preceding a trip to Everton in late April.
The Magpies then face matches against West Brom and Watford before the season ends with a home game against reigning champions Chelsea on May 13.
Today's fixture list will be changed once the television companies announce their plans, with Sky Sports and BT Sport due to reveal their firts batch of televised fixtures shortly.

NEWCASTLE UNITED 2017-18:

Aug 12 TOTTENHAM (H)
Aug 19 Huddersfield (a)
Aug 26 WEST HAM (H)
Sep 9 Swansea (a)
Sep 16 STOKE (H)
Sep 23 Brighton (a)
SEP 30 LIVERPOOL (H)
Oct 14 Southampton (a)
Oct 21 CRYSTAL PALACE (H)
Oct 28 Burnley (a)
Nov 4 BOURNEMOUTH (H)
Nov 18 Man United (a)
Nov 25 WATFORD (H)
Nov 28 West Brom (a)
Dec 2 Chelsea (a)
Dec 9 LEICESTER (H)
Dec 13 EVERTON (H)
Dec 16 Arsenal (a)
Dec 23 West Ham (a)
Dec 26 MAN CITY (H)
Dec 30 BRIGHTON (H)
Jan 1 Stoke (a)
Jan 13 SWANSEA (H)
Jan 20 Man City (a)
Jan 31 BURNLEY (H)
Feb 3 Crystal Palace (a)
Feb 10 MAN UNITED (H)
Feb 24 Bournemouth (a)
Mar 3 Liverpool (a)
Mar 10 SOUTHAMPTON (H)
Mar 17 Tottenham (a)
Mar 31 HUDDERSFIELD (H)
Apr 7 Leicester (a)
Apr 14 ARSENAL (H)
Apr 21 Everton (a)
Apr 28 WEST BROM (H)
May 5 Watford (a)
May 13 CHELSEA (H)