The England and Wales Cricket Board is considering an appeal by Middlesex over the points deduction which contributed to their relegation.
Middlesex were docked two points for a slow over-rate during their Specsavers CC Division One match against Surrey in August – a match which was abandoned when a crossbow bolt was fired into The Oval.
Middlesex were subsequently relegated by one point after losing their final match of the season to Somerset, who maintained their Division One status as a result of the victory on September 28.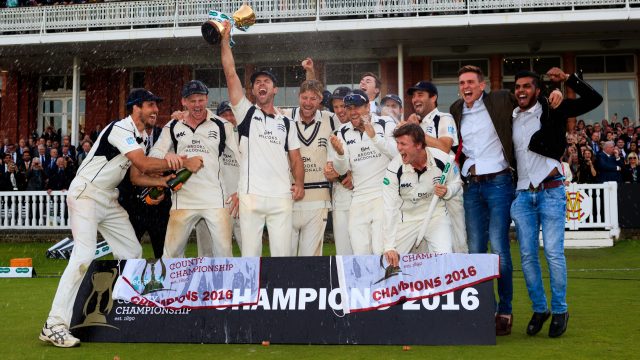 12 months ago, Middlesex were Division One champions (John Walton/PA)
The 2016 county champions have now lodged an appeal against the punishment, which was imposed on September 9.
At the time Middlesex chief executive Richard Goatley said there was "no scope" for an appeal, but that position has evidently changed.
An ECB spokesman told Press Association Sport: "Middlesex have appealed against the two-point penalty imposed for a slow-over rate during the match against Surrey.
Joy for Hampshire & Somerset, despair for relegated Middlesex…

Catch up on a nerve-shredding last day: https://t.co/ICskqguPmC pic.twitter.com/LybTS6OMIk

— County Championship (@CountyChamp) September 29, 2017
"That appeal has been referred to the chairman of the cricket discipline commission, who is considering a response."
Middlesex said in a statement: "Middlesex Cricket confirm that we have made submissions to the chairman of the cricket disciplinary commission over the issue of the two point deduction for a slow over rate following our abandoned match at the Kia Oval.
"Middlesex Cricket will, however, make no further statement on this matter until the process has been concluded with the CDC."